BlackJack

This blackjack game is easy to install and customize. It includes card images, double down, split, insurance, surrender and 4 betting options (10, 20 ,50 ,100).

You can customize the background colour (color in the USA :), text colour and also add your own banner to the top of the pages in the blackjack game.

Not only are you giving the visitors to your website a fun game to play but also advertising on gambling sites is very sought after, with it being among the most expensive to buy from places like www.overture.com

The best thing to do is have a play, so scroll down and HAVE A GO.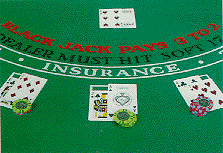 Play our Blackjack demo here

Don't want to pay for the script, then get it remotely hosted here

Subscribe to our mailing list and find out when we update